IN-CONTROL II: 
In IN-CONTROL 1, we built a cohort of 300 subjects with overweight or obesity for deep phenotyping of clinical parameters for cardiometabolic disease, genomics, microbiome, and extensive phenotyping of the immune system (see figure);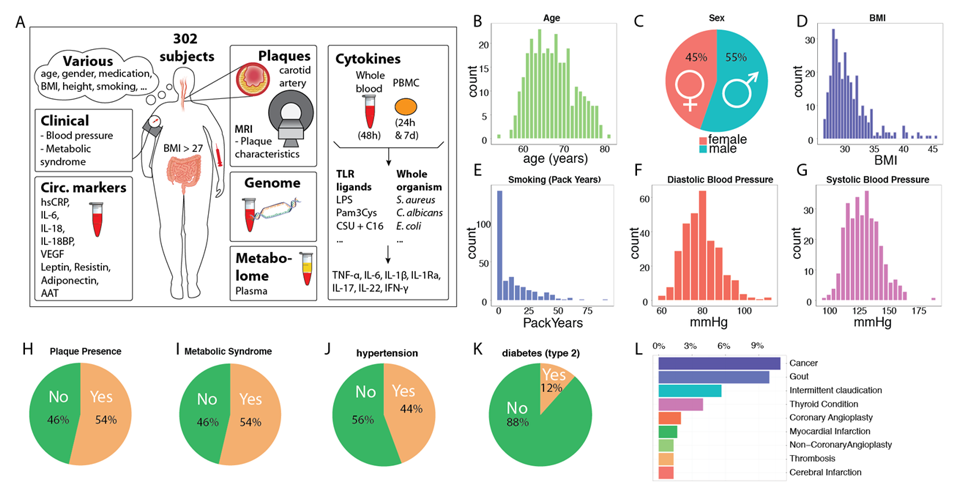 The main observations that we did in this cohort, were that we identified novel circulating inflammatory markers that were highly associated the presence of carotid atherosclerosis, over and above know inflammatory markers such as high-sensitive CRP (van den Munckhof, submitted). In addition, using multi-omics and cross-omics approaches, we identified novel layers of regulation of inflammation and how this might contribute to the development of cardiovascular diseases (ten Horst, submitted; Frishberg et al, submitted).
Combining data of our cohort with cohorts from Groningen resulted in an improved insight into the role of the microbiome in inflammation, metabolism, and cardiovascular diseases (Kurilshikov, van den Munckhof et al, Circ Res 2019; van den Munckhof, et al, Obes Rev 2018).
In IN-CONTROL II we will now decipher in more depth the mechanisms that induce inflammation in these subjects, focusing on trained immunity, clonal hematopoiesis, and immune cell senescence in relation to increased CVD risk based on the proteomic panel. Subsequently, we will design and test novel therapies based on these mechanisms in WP4. Trained immunity indicates the nonspecific immunological memory leading to hyperinflammation and is mediated by metabolic and epigenetic reprogramming. Brief exposure of monocytes to oxidized LDL and lipoprotein (a) induces a persistent pro-atherogenic monocyte phenotype, as well as a four-week WTD in murine models, due to epigenetic reprogramming of myeloid bone marrow progenitors. Interestingly, statins partly prevent the inappropriate induction of trained immunity. In addition, clonal hematopoiesis impacts on the inflammatory potential of myeloid cells. Clonal hematopoiesis is a hallmark of aging and results from somatic mutations in hematopoietic stem cells which gives an advantage to mutant cells, driving their clonal expansion. Epigenetic regulators, including Tet2 and Dnmt3a, drives these effects, and individuals with clonal hematopoiesis have an increased risk for atherosclerotic CVD through increased secretion of pro-inflammatory cytokines. With ultra-sensitive sequencing, more that 20% of subjects aged 60-69 appear to carry clonal hematopoiesis-driver mutations. With epigenetic reprogramming at the center of trained immunity, we hypothesize that clonal hematopoiesis influences induction of trained immunity.
Publications:
1: Keating ST, Groh L, Thiem K, Bekkering S, Li Y, Matzaraki V, van der Heijden  CDCC, van Puffelen JH, Lachmandas E, Jansen T, Oosting M, de Bree LCJ, Koeken  VACM, Moorlag SJCFM, Mourits VP, van Diepen J, Strienstra R, Novakovic B,  Stunnenberg HG, van Crevel R, Joosten LAB, Netea MG, Riksen NP. Rewiring of  glucose metabolism defines trained immunity induced by oxidized low-density  lipoprotein. J Mol Med (Berl). 2020 Apr 30. doi: 10.1007/s00109-020-01915-w.  [Epub ahead of print] PubMed PMID: 32350546.
2: Keating ST, Groh L, van der Heijden CDCC, Rodriguez H, Dos Santos JC, Fanucchi  S, Okabe J, Kaipananickal H, van Puffelen JH, Helder L, Noz MP, Matzaraki V, Li  Y, de Bree LCJ, Koeken VACM, Moorlag SJCFM, Mourits VP, Domínguez-Andrés J,  Oosting M, Bulthuis EP, Koopman WJH, Mhlanga M, El-Osta A, Joosten LAB, Netea MG,  Riksen NP. The Set7 Lysine  ethyltransferase Regulates Plasticity in Oxidative  Phosphorylation Necessary for Trained Immunity Induced by β-Glucan. Cell Rep.  2020 Apr 21;31(3):107548. doi: 10.1016/j.celrep.2020.107548. PubMed PMID:  32320649; PubMed Central PMCID:  MC7184679.
3: Bekkering S, Saner C, Riksen NP, Netea MG, Sabin MA, Saffery R, Stienstra R,  Burgner DP. Trained Immunity: Linking Obesity and Cardiovascular Disease across  the Life-Course? Trends Endocrinol Metab. 2020 May;31(5):378-389. doi:  10.1016/j.tem.2020.01.008. Epub 2020 Feb 8. Review. PubMed PMID: 32305098.
4: van der Heijden CDCC, Groh L, Keating ST, Kaffa C, Noz MP, Kersten S, van  Herwaarden AE, Hoischen A, Joosten LA, Timmers HJ, Netea MG, Riksen NP.  Catecholamines Induce Trained Immunity In Monocytes In Vitro and In Vivo. Circ  Res. 2020 Apr 3. doi: 10.1161/CIRCRESAHA.119.315800. [Epub ahead of print] PubMed  PMID: 32241223.
5: Netea MG, Domínguez-Andrés J, Barreiro LB, Chavakis T, Divangahi M, Fuchs E,  Joosten LAB, van der Meer JWM, Mhlanga MM, Mulder WJM, Riksen NP, Schlitzer A,  Schultze JL, Stabell Benn C, Sun JC, Xavier RJ, Latz E. Defining trained immunity  and its role in health and disease. Nat Rev Immunol. 2020 Mar 4. doi:  10.1038/s41577-020-0285-6. [Epub ahead of print] Review.  PubMed PMID: 32132681;  PubMed Central PMCID: PMC7186935.
6: Noz MP, Hartman YAW, Hopman MTE, Willems PHGM, Tack CJ, Joosten LAB, Netea MG,  Thijssen DHJ, Riksen NP. Sixteen-Week Physical Activity Intervention in Subjects With Increased Cardiometabolic Risk Shifts Innate Immune Function Towards a Less Proinflammatory State. J Am Heart Assoc. 2019 Nov 5;8(21):e013764. doi:  10.1161/JAHA.119.013764. Epub 2019 Oct 18. PubMed PMID: 31623506; PubMed Central PMCID: PMC6898840.